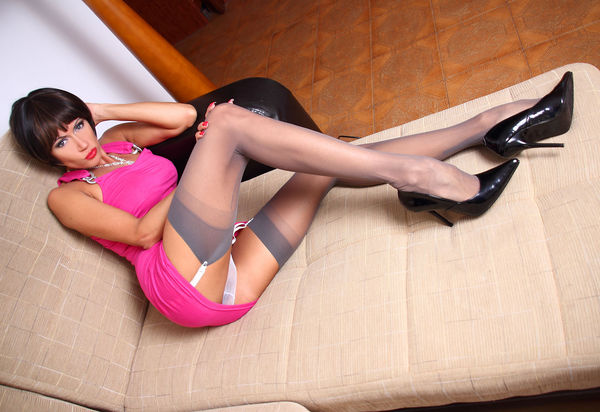 I'm the kind of woman who fully understands how much my stocking legs turn men on. I love to seduce younger men with my sexy legs. I'm one hot Milf in stockings and I know it. I use my legs to get all kinds of attention. A guy doesn't need to have a foot fetish to be turned on by my stocking feet. I learned this many years ago. I'm going to tell you all about a story that happened not too long ago. A story that ended just the way I hoped it would.
I've had my eye on this handsome hunk who works at a local electronics store. I asked him if he could pay me a visit after work. The excuse I used was that my printer wasn't working properly. At first, he seemed kind of hesitant. I made sure he caught a glimpse of my stockings legs. I was wearing a short skirt and a shirt that showed plenty of cleavage. My legs in sheer nylons were irresistible at this point. They were the one thing that pushed him over the edge. He agreed to stop by and check out my printer.
The guy came over to my place right after work. I could tell that he was excited as soon as I opened the door. I was still wearing my sexy outfit. I let him in and he immediately told me my printer was out of ink. I knew that. I didn't invite him over to look at my printer. I wanted to give him a footjob while wearing stockings. I knew a hot college guy like him could really bust a nut all over my stocking feet. We talked awhile and I offered him a drink. He kindly refused and claimed not to drink alcohol.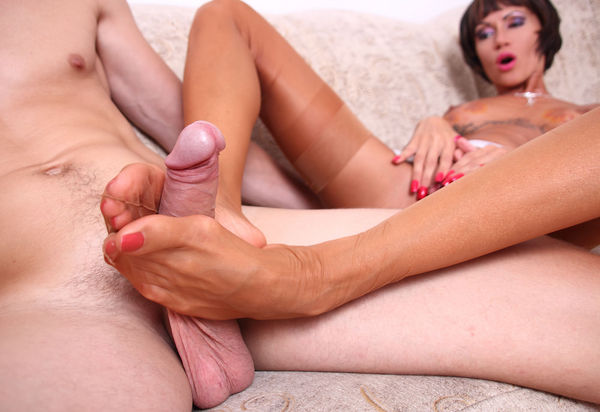 I put my arms around him and he seemed nervously shy. I was so turned on by his reaction. I could feel his heart pounding as I held him tight. I could also feel a bulge in his pants growing. I knew then that this guy was like putty in my hands. I could've done anything I wanted to him. I already knew what I wanted to do. I love watching semen squirt out onto my stocking feet. It turns me on like nothing else does.
We went back to my bedroom and that's when I let loose. I put him on the bed and he didn't do a thing. It made me wonder just how sexually experienced he was. I didn't care really. The less experienced he was, the more of a turn on for me. I knew for a fact that he never experienced anything like this before. His reaction said it all and it was absolutely priceless.
I started by rubbing his balls with my stocking feet. I saw his cock grow instantly when doing this. I teased the head of his cock with my toes. My stocking feet glided up and down his cock. It wasn't long before he started moaning. I watched as he dug his fingers deep into the bed sheets as pleasure overwhelmed him. I couldn't believe my eyes when he came in record time. I'd say he came in less than two minutes. My silky smooth stocking feet were now covered with semen. Lots of semen as a matter of fact. It was almost as if this guy had saved up his jizz for months. What could be more desired for real MILF in stockings?!
What was this handsome guy's name? I don't remember. I really don't. He was just one of many guys who I lured and seduced with my long legs. The two things no man can resist when they're covered in sexy nylons. I haven't seen the guy since. Maybe I'll pay him a visit when my printer is out of whack. Until then, I'm going to be on the prowl for more guys to have a little naughty fun with.